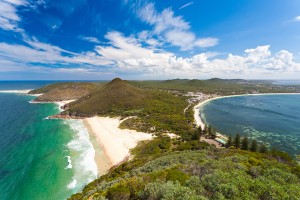 How did the various Australian sites get their names?
Three Sisters
For a long time these were thought to be named after an aboriginal legend; supposedly three sisters from one aboriginal tribe were romantically linked to three men from another tribe, despite the fact that marriage was forbidden. Supposedly the three sisters were turned to stone to protect them during a battle over this issue, and they could never be turned back. Unfortunately, this legend seems to be a fabrication from the early twentieth century.
The name is shared with a small group of islands in Queensland and some other rocky islands near Tasmania.
12 Apostles.
These were once grouped with mutton bird island and named 'sow and piglets'. The name was changed to 12 apostles because this was though to sound more tourists friendly. There were only ever 9 formations, so the '12' is misleading. One formation collapse in 2005, leaving 8.
Seen from a distance the mia haze in the atmosphere from the numerous eucalyptus trees makes the area look blue.
Zig Zag Railway
Early steam engines were not as powerful as modern transport. In order to lessen the slope they needed to ascend the railway tracks were layered diagonally across the mountains, in a back and forth manner. Modern railways in these areas no longer do this, and use the steep slope as a selling point.
Nullarbor
The empty area above the Great Australian Bight was simply a Latin Phrase meaning 'no trees'.