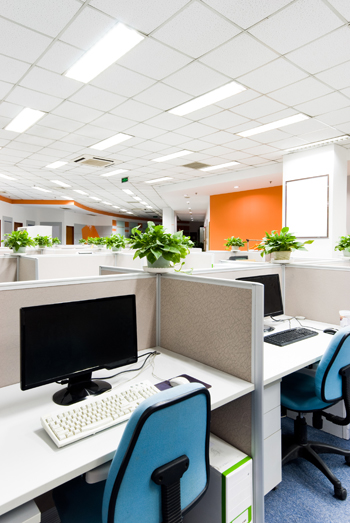 Your Office is cleaned by complete strangers. To ensure that they are trustworthy and up to the task they should:
Wear uniforms and appropriate ID. This shows that they are professional, and will put effort into living up to the role. A company's reputation is on the line whenever they perform a task, especially if they can be identified by their uniform. A uniform is not a guarantee, but it is a good sign.
Marked vehicles. Like uniforms these show a certain level of professionalism. If you have security concerns an easily identified cleaning vehicle is far preferable to an unidentified vehicle on your premises after hours.
Have an established office centre. A phone number is too limiting, and can be given out by anybody. A centre of business operations shows that a company is serious.
Be professional: arrive on time, finish tasks efficiently and on schedule, and never interfere with the running of the business operation. Being good with the people they work with and for is always a good sign.
Have a solid reputation: check the resume, customer feedback. See if they have maintained their contracts long term. Were they recommended to you? Do they have credibility?
Be concerned with hygiene as well as tidiness. Neatness is fine, but a little disarray never hurt anybody. But surface areas not disinfected can be the cause of many illnesses, which causes loss of productivity at work, not to mention personal discomfort. Insist on a cleaning service that meticulously looks after this.
Leave your office the best place for you to conduct your business in. The cleaner is someone who stays in the background; but should they be negligent that consequences become quickly apparent. A good cleaner leave you free to look after more important things.
Be willing to work outside normal hours, leaving your time flexible to use as you see fit.
Office cleaning, Sydney based services, should be fully bonded and licensed.
We recommend AAA cleaning for any Sydney office.